August, Athens / Beirut / Larnaca Boeing 707... That was infact one of the reasons of returning to Athens for the 3rd time. Our ideas from the first visit, going Syrianair Caravelle ATH-DAM, MEA 720 DAM-BEY and MEA 707 BEY-ATH were still only dreams. Now since Syrianair parked their Caravelles and MEA almost didnt fly 720 anymore we thought the second best oportunity was to get ourselves a ride on the 707. We booked a flight ATH-BEY on MEA with return two days later BEY-LCA on MEA and LCA-ATH on Olympic 737. But first some days at Emmantina...




Visiting Beirut is something I will never forget, neither regret. I wanna go there again sometime. Not only for the aviation part. One day were spent by car with a guide taking us all over the town and on our very special request also to the construction site of the 720 Restaurant. Unfortunately this one burned down a couple of years later.




Next day we managed to get ramp access on both MEA and TMA facilities - by foot. If you been there you know they are located at each runwayend and we had to pass security office in between. Got my first six 720s in two days! N720JR and HZ-KA4 were visiting and MEA aircrafts were parked in the same corner. Forgot to take a picture of Lebanons by the time only bizjet, a Falcon 20, which was hangared by MEA.




On the way back to ATH we enjoyed a 20min flight over the sea to Larnaca and then a quick ramptour during our 45min transit! New record! The Il18 from Aqvila Air was well worth the stress!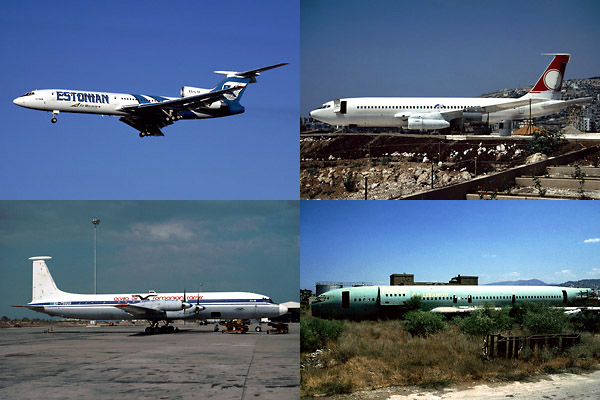 Then enjoying the rest of the week in Glyfada - compared to Beirut extremly civilized!