July, London/Manston/Southend/NorthWeald/Kemble/BrizeNorton The same old trio going back to UK again, this time for two full days at Heathrow to catch up with all the news there. A380's, 773's and more. Also some of the Gatwick traffic was needed but day 3 plans were uncertain when the trip was booked. We were thinking maybe driving to Manston/Southend or Kemble/BrizeNorton. An evening British Airways flight to Heathrow, pick up of rental car and checkin to Marriott in Twickenham and some hours left to sleep before dawn. This phototrip was ready to begin!


Day 1:
Landings at Rwy 27R in the mornings and sunrise from 05.00 meant we had to position us on the northern side of the approach for the first hours. We have in earlier times discussed the Q-park multistorage carpark as an alternative. After quite a procedure to checkin the car and paying a great amount of money we were welcomed in. at this time the Singapore A380 passed just in front of us. No pix of this one! Driving around the first corner inside the building, being stopped and asked to leave the car as they were going to park it for us. No possibilities at all for us to get up in the building and we asked for the exit and took off from there. Well spent money...

Found a parkinglot at a local street instead where we had pretty good view. During the mornings some traffic use Rwy 27L as well but this morning we were lucky enough to see only JAL Gargo 744F, Kenya 772, some Continental 772's, British Airways 772's, 744's and two of the three Qantas 744's in the far distance. Well actually it was still possible to make some emergency shots from our position as the sky was clear and pretty cold morning meaning no heat haze. A 747 covered at least 50% of the frame. We hoped to get some Gulf 773's but all flights within reach during this trip turned out as A340's. Most spectacular visitor this morning was the Etihad A346 in F1 colors.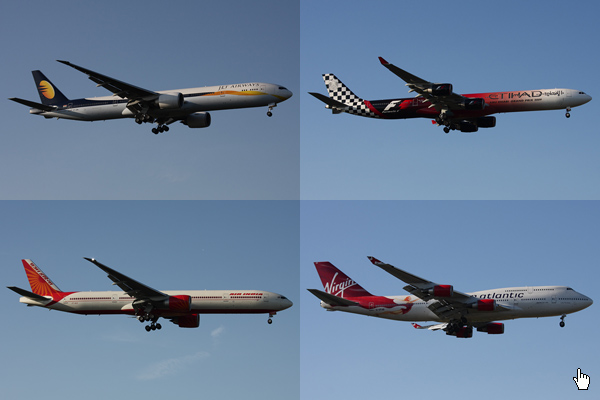 Around 08.00 we decided light was poor enough from here and we changed side. But where to get rid of the car next to the hangar area on the 27R side? Why not check out the longterm parking nextdoor... Turned out it was a fixed price for 1-4 days and we decided to park the car here and simply walk across the road to the traditional positon for approach shots. Got quite a good number of aircrafts but nothing really special. Loads of BA 744's with One World titles as well as American Airlines 777 in this scheme as well as my first production A380, being from Emirates.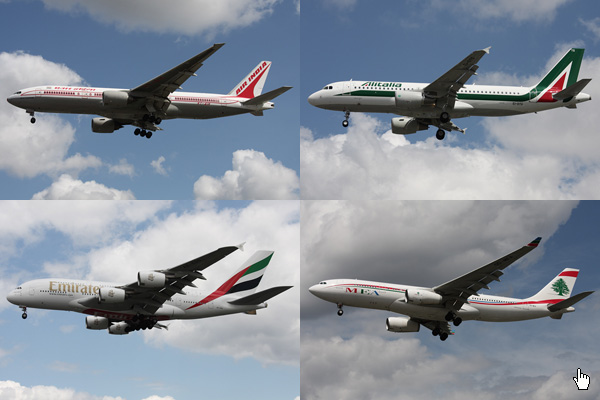 Usual runway change at 15.00 and repositioning to Myrtle Avenue where we stayed until dawn. Weather getting worse but at least no rain. Asian traffic arriving as well as the Arik A345 and Oman A330. We decided to leave after the Singapore A380 arrived, forgetting about Eva Air 773 which passed above our heads when entering a local pub for some dinner before heading back to Twickenham.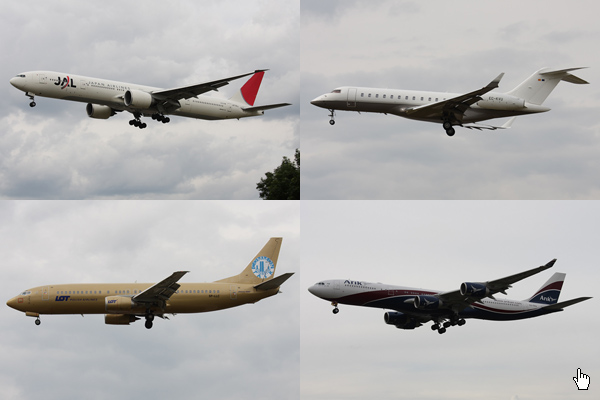 Day 2:
Today was supposed to be the second full day at Heathrow. Getting up once again for the morning traffic despite the weather being extremly dull and entered the same longterm carpark as yesterday. This carpark was quite big and we found out yesterday that the centerline passed through the middle of it. If just going further down you came far enough from the approach to get decent shots. In time for the Singapore A380, South African A340's and the morning Qantas. Of course their A380 landed on 27L as did the morning Gulf A340. We payed the parking and stayed for a while at the southern side of 27R.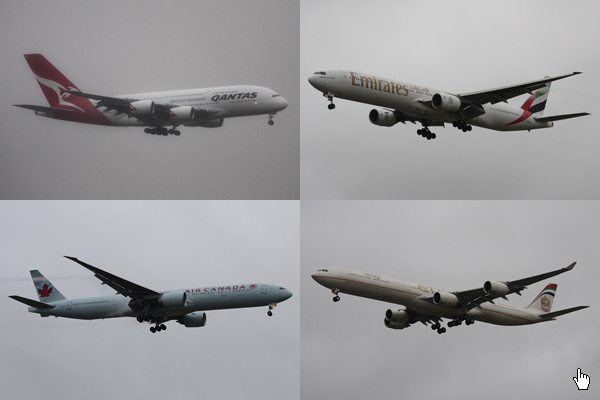 We discussed what to do, we had promised ourselfs not to leave Heathrow at this time but making approachshots in dull weather (and by now rain as well) is never fun... So - off we go! First stop was at Manston which turned out to be more crowded than we expected. First aircraft to welcome us was ex ST-UAA DC-8-62 nowadays on Ghana register. Another DC-8 together with four 747's plus an ex Australian Air Force 707 also rested here for the moment. The 707 flew in here two years ago as N707QJ after being bought engineless by Tom Vaughan and his "Turbine Motor Works". He had plenty of engines in his store and simply picked the four best and shipped them to Australia to make the old bird airworthy again. This was by the time when QFM worked on the Southend 707 VH-XBA. The DC-8 9G-MKA heading for Lelystadt this autumn was also still there. A sad sight as still parked in the scrapping area and in pretty poor condition. I'm sure the museum guys will make her look good in the end but they have a hell of a job infront of them.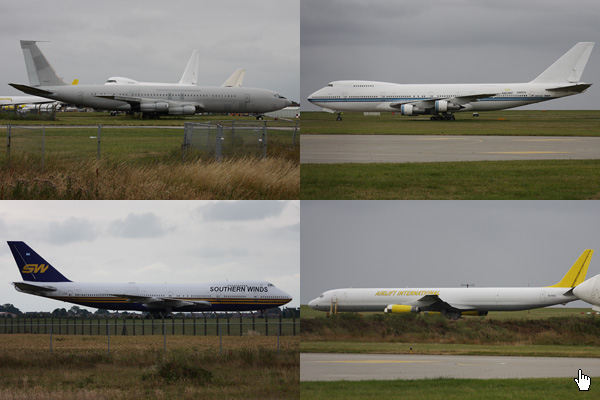 Back along the coastline to the Thames inlet and the tunnel underneath it. The bridge keeps the southern traffic only.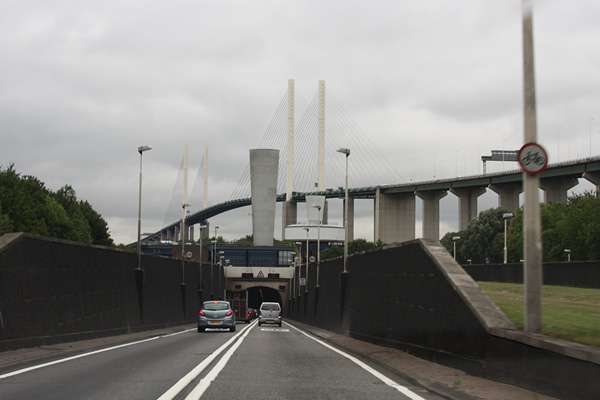 Back out on the northern side heading for Southend. In earlier days this was home of a great number of BAe 1-11's and ATP's. Nowadays apparently the BAe 146 is the most popular aircraft. The paintshop always have some interesting visitors. Today we could see two Arik 737's and a 727 parked inside the hangars but a new 733 for Viking were outside, sporting the full new colors. Some 748's with the most intersting ones being two VH-registered aircrafts, of course hiding well from us. As mentioned already a great number of 146's among some other smaller airliners.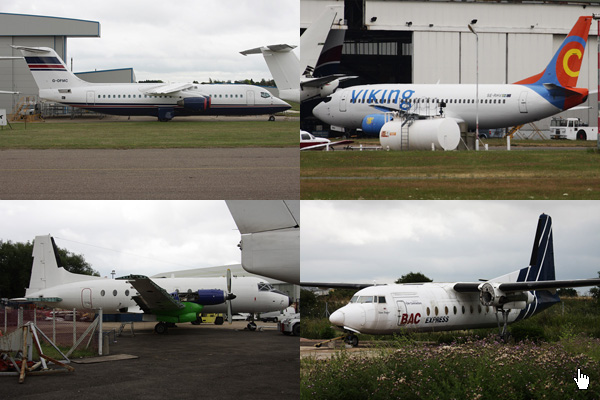 Next stop at Stansted which always offers some unexpected ones. This time we found the Orbis DC-10 flying hospital and a Kingfisher 727 as well as a Cayman registered A319.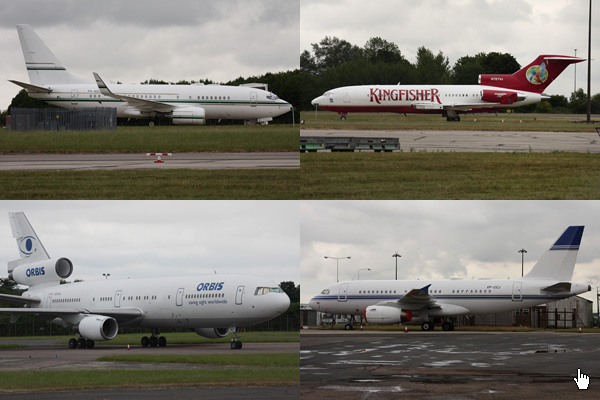 On the way to Stansted we passed North Weald where Aces High still obviously hosts the two DC-4's that were to be used in a movie about Berlin Airlift. On the way back we made a quick visit to the field. The vintage propliners arrived from the States via Reykjavik already in 2002 and I think are still waiting for this mission. UK's largest market obviously takes place here during weekends and we were a bit worried to get stuck in traffic but no problem. Continuing to Luton...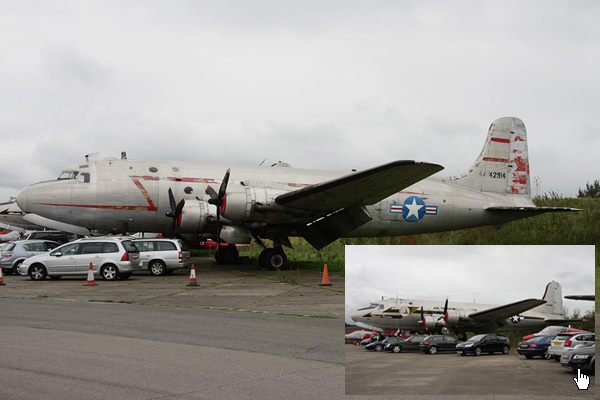 Always many nice bizzjets here, but as always the aprons are too crowded to get decent shots of the parked ones. You clearly note an increasing number of Legacy's but the usual amount of Gulfstream's also makes the visit worth it. We stayed at the dropoff carpark next to the taxiwaybridge for a while. Getting rid of the rentalcar have been a problem here before but at the moment they offered one hour free parking, perfect!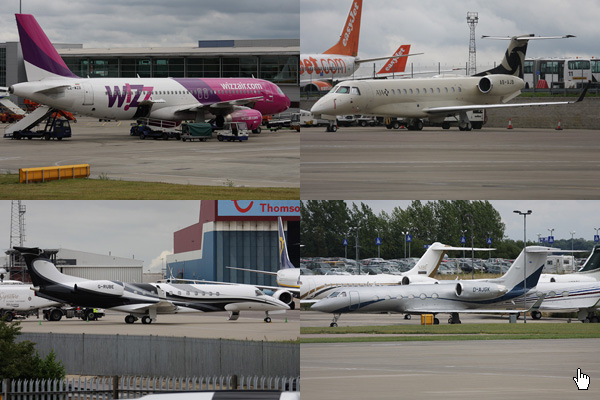 Then back to Heathrow in time for the runway change and we parked at Myrtle Avenue once again for a 27L afternoon. Weather was lousy and there were some rain but we had nothing else to do so we sat under one of the trees in the park and watched all the speedbirds coming in.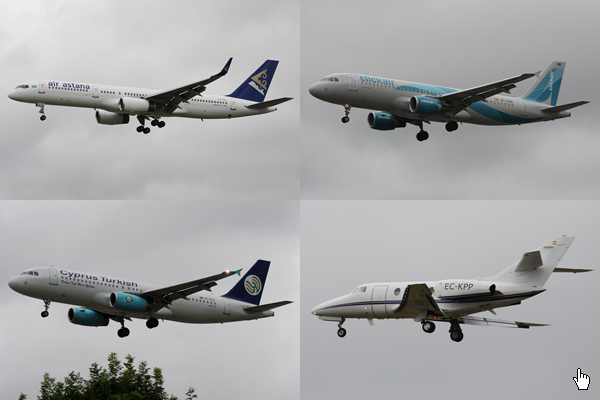 When the background became too bright and aircrafts were almost silhouettes we decided to switch side and parked next to Hatton Cross station. When Kingfishers, Arik Air, Oman Air, Air India and some others landed we decided to give up for the evening and go back to the hotel for a shower and dinner at any of the local pubs in Twickenham. We managed to forget for the second evening as well, the Eva Air 773 which passed right over our heads when waiting at a trafficlight... Dinner was great and some beers later it was time to hit the pillow to get some sleep before the last day. Intention was to once again get the morning traffic at 27R.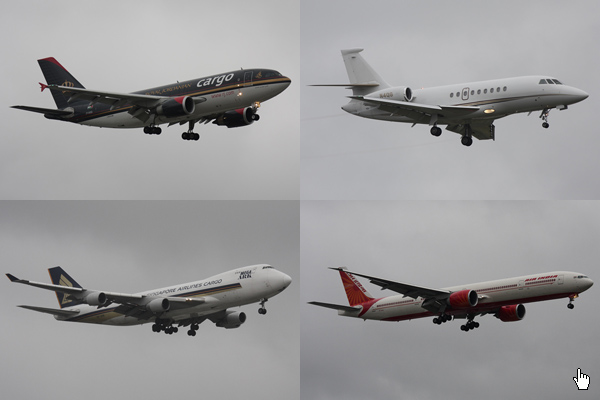 Day 3:
Alarmclock waked us once again at 04.30 but a quick look through the window confirmed the sound of raindrops. Heavy rainfall made the choice easy to snooze for a while. At 08.00 the weather started to clear up and we had breakfast in the hotel before leaving for Kemble. South gate was open so no problem to get to the aeroclubs and the Britannia Preservation Trust. Good views of the scrapping area is given from landside next to the perimeter road and this gave some interesting ones with the most recent arrival being an A320 from Air Lanka. BAe 146 apron were almost empty by the time, only offering some white freighters. Swedens first 146 G-BRXT was one of them.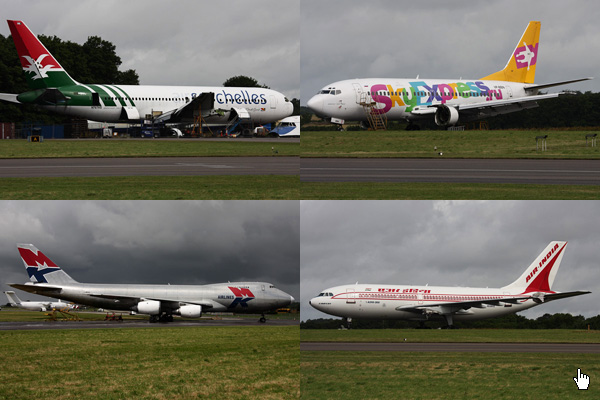 Small typical british roads wide enough for almost one car and stonehouses everywhere, the countryside really offers a nice scenery! We continued like this to the village of Brize Norton where RAF have the Tanker Unit based. Lots of Tristars present but no movements at all (not expected by us as today was sunday. Photospots are few and som shots across the runway on some Tristars were the only result. A great number of VC-10's were parked in the far end of the field and we didn't even bother to try find a way there. We were heading back for the last session at Heathrow before returning the car.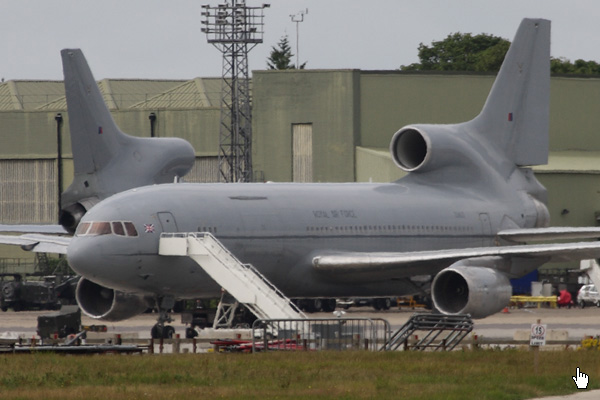 Back earlier than expected gave us an hour at 27R before heading for Myrtle and 27L again. The weather was pretty ok again but far from everything passed in sunlight. However the sun shined like never before when A9C-HAK 747SP passed, this was a cheerful moment!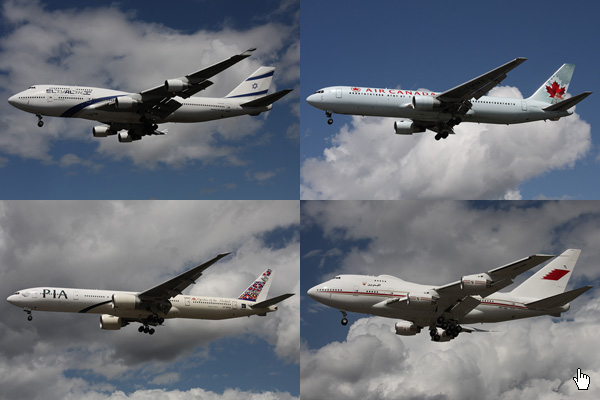 We decided to be at Myrtle before the runway change today and when approaching Hatton Cross we realized the Emirates A380 were in the take off queue. Some lineup shots at the Etihad and Air Transat departing ahead of the monster from a nearby crash gate and then off to Myrtle.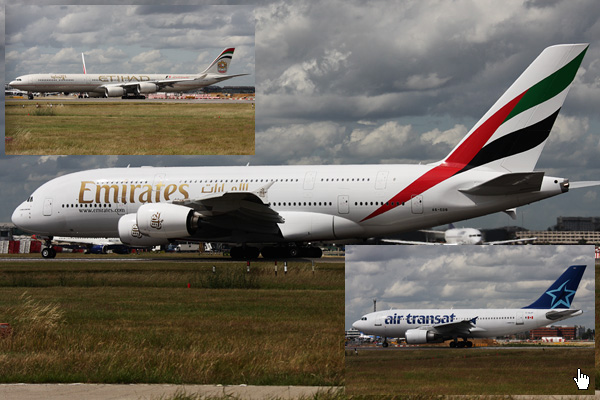 Shortly after arriving there, some locals told us the ATIS informed until further they would stay with approach 27R. We took off immediately and went back there again. It turned out this move made us miss the TAM 773 today but still it was worth it as it turned out they waited for an emergency. Cathay A340 in OneWorld colors came a little later with geardoors hanging and center mainwheel still retracted.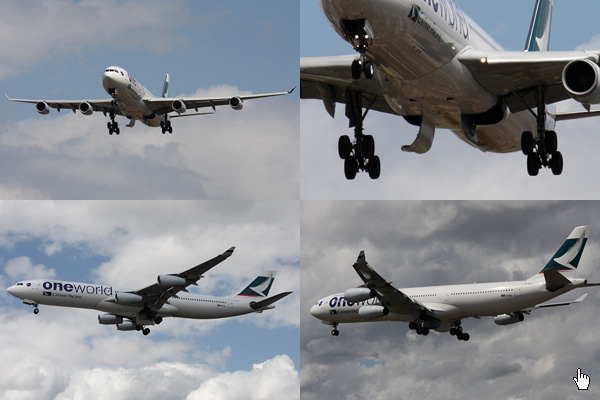 After this we once again went back to Myrtle and spent another two hours there before deciding it was time to return the rental car and checking in for the return flight. Last approach being Dubai Air Wings 744.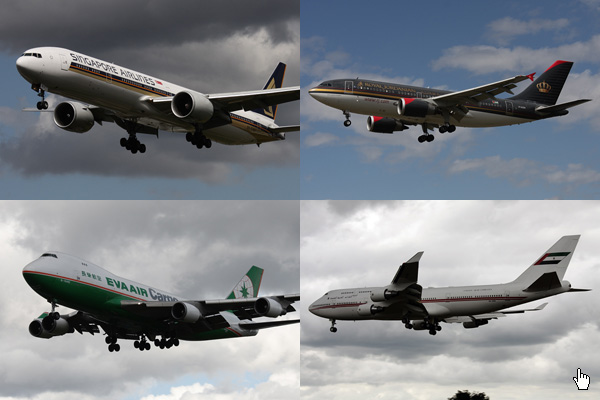 We stopped at Hatton Cross for a Clickair A320 before going to National car return north of 27R. We made a quick stop at the hangars, getting the Star Alliance SAA A346. When waiting at the rental parking we made the last shots for this trip on some takeoffs.