January, Innsbruck Actually this was pure vacation in the alps, skiing for a week. Good thing I had to pass the airport twice! Popular vacation among russians as well and three CentrAvia Yak42s welcomed me!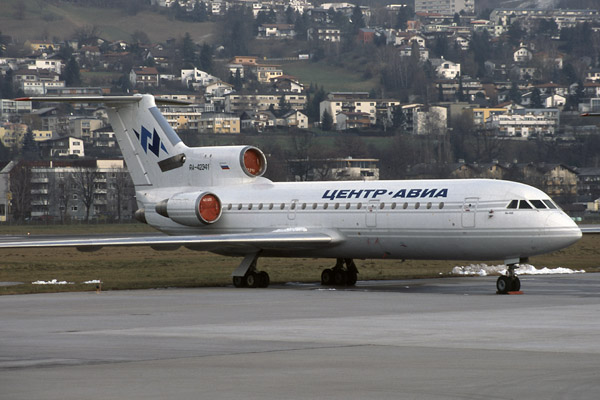 When going home a week later I also made the misstake NOT checking what Dash 8 was parked in the hangar area. When taxiing out I found it to be one of the Palestinian Airlines aircrafts never delivered... Enjoyed a clear, sunny vacation with lots of skiing, beer and good food anyway!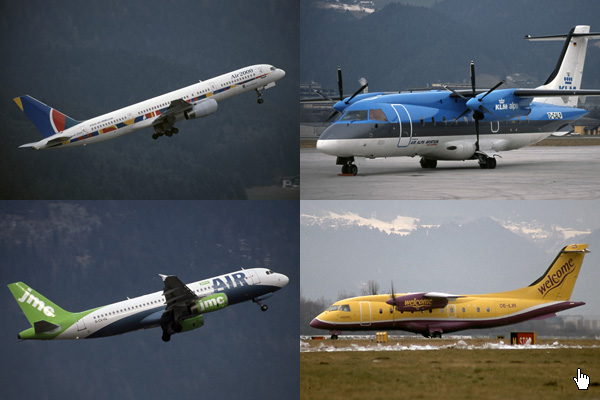 July, London Back again for another roadmovie! Those crazy tours with rental car and tent never gets boring...


Day 1:
New record set, in total 12 airports the same day! Started at our airport of entry, Stansted, with an Aeroflot DC-10 and Air Transat L1011.




Then off to Southend for HZ-123 (restored for Qantas and leaving 2006), Algerian Airforce Il76, British World 757, The old Liberia Government B111 and 9U-BHP YS-11 (burned out later the same year).




Continuing to Manston this time giving only five aircrafts. One Air Atlanta 742 and one 743 in Saudia cls, DC-8 from MK Airlines, Ukranian Il76 and a 707 from Allied Air.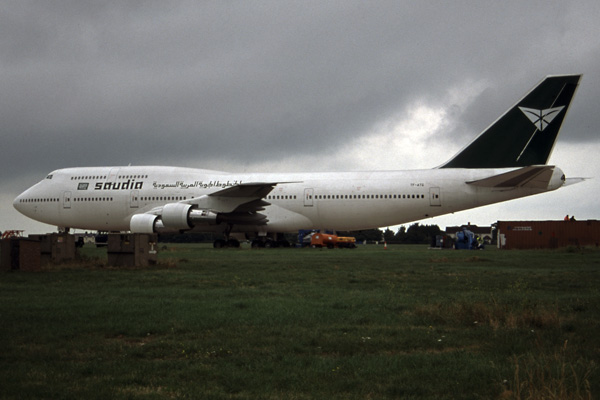 Biggin Hill gave us a single Citation and both Formula 1 B146's.




Lasham was still accesible but offered only an ex British Airways 757 so a short stroll in the museum yard to take the very odd DH Drover with three engines and still marked from its time with Flying Doctors Australia.




Close to Lasham is Valley Nursery where one of the aircraft scrappers in UK have a storage area. Fuselage of an old MukAir SH360 was the only one I managed to get before we were kicked out by an angry worker. The fuselage of A6-SHK was also in the same yard but no chance getting a picture.




Off again with a short stop by Southampton Airport Railwaystation resulting in an ATP and some J41's in British Airways colors. One Trislander passed us as well.




Main target as usual in the southern part of our route was Bournemouth, always hosting some nice ones. This time European was in the process of upgrading the fleet to 732's and eight of the B111's were parked now. Some former Sabena 732's were being phased into the fleet and two ex Taesa aircrafts were parted out for spares. Also two South African A300's being parted out together with one ex Premiair DC-10. The Qatar 747SP were also "home" and quite happy we continued...




...via Filton...




...and Kemble. This was still a base for RAF Hercules but we knew there was a Bristol Britannia parked here as well. When we came closer to the main gate, they opened up and we drove all the way up to the beauty.




Today we planned to end up the photosession at Brize Norton as we knew that Airforce One was supposed to be there. So it was, but in the distance and it was almost dark now, the pictures was not the best ever.




Our goal tonight was to position us at Manchester for an early start and by now we should have given up our photographing this day but it turned out we passed Oxford and a Skyvan of Streamline wished us goodnight on this 12th airport day 1.





Day 2:
Manchester before the new runway was built. With one runway you get everything moving. This time Air Wales Do228, Air Transat L1011, Aurigny S340, Hemus Tu134, Continental 772, US Airways A330 and the usual amount of BMI and British Airways as well as some charter.




Today we had a time to be at Coventry as I arranged in advance for ramp access and we only passed Birmingham briefly, getting some bizjets, JMC 757 and a WDL B146.




At Coventry we were greated by the Air Atlantique staff, giving us a complete tour of the area including hangars. One of the highlights were unfortunately hidden in the middle of a small hangar between an Electra and the Thales radarequipped DC-3, it was G-CONV the recently bought CV440. A great number of DC-3's helped up as did the Twin Pioneer and Shackleton. A Metroliner, a Citation and two Dove's were also great additions to the collection but with all the hangars I wish I have had Image Stabilizer or at least a tripod. Big thanx to Air Atlantique and Atlantic Airways for their help.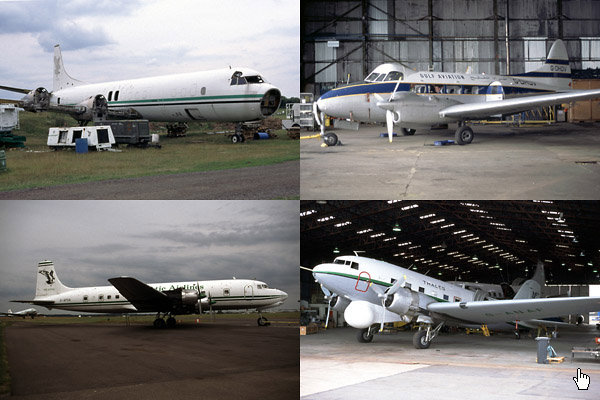 Finishing the day at the far side of Luton along the runway, getting a number of orange ones and a Euroceltic F27's together with a number of bizjets.





Day 3:
Morning peak at Heathrow approach 27R with the usual loads of British, Emirates, Lingus, United and Iberia. MEA at this time operated with 3B-registered A310's and Canadian was recently merged with Air Canada and lots of hybrids in Air Canada colors and Canadian tls. Mr Branson had leased an Atlanta 747 and this TF-ABA was parked at the maintenance area, some Concordes waiting for decision of their future.




After touring the hangars we were off to the parking deck at Gatwick and Excel, JMC, Airtours, Monarch and the usual British Airways of various types. Highlight was a Hemus Tu154 still wearing Balkan colors.





Day 4:
Starting this morning at Gatwick, clouds made it possible to relax at the parking deck but when the sky got brighter we moved to the other side getting Air Transat L1011, Helios 738, Air Seychelles 767 and some Virgin 747's.




With time running out we set off for Stansted but first a stop at the far side of the airport as some of us didn't have the withdrawn 707s at the far side. Saying hello to some nearby cows while working us through the terrain was worth it. 4K-AZ3, EL-AKJ and the poor looking B111 5N-HTC. In the maintenance area we found A2-ABD and G-TBIC B146's and HS-TFS 707. At Stansted we stayed for a while at the constructionsite getting ssome Buzz movements, some missing Go 737's and some Ryan's before leaving the car and checking in for the return to Skavsta.