June - July, Helsinki / St Petersburg / Moscow / Novosibirsk / Krasnoyarsk / Ekaterinburg Flying with Finnair via Helsinki was a good way to get to St Petersburg with return from Moscow. Many new popups at HEL by the time. Aero Airlines with a sole ATR72, Air Finland 757 and Flying Finn MD80's were welcomed. Also a couple of the finnishbased Saabs from Golden Air. One night at an airport hotel before continuing to LED.





Day 1
Arriving in LED and waiting for the group to arive from England we carefully made some photos next to the terminal. Spongebob and company arrived and we headed towards the hotel.





Day 2
Morning supposed to be spent at the apron of LED. Arriving at the airport first thing in the morning only to find out the granted ramp access was no longer a fact as president Putin was visiting. After a while we managed to work out permission to stay on the terrace to the right of the terminal where we did some recognition the day before. We also made a tour to the Helicopter rework facilities but with no access at all to the rows of Mi8's waiting for service it was a complete disaster. Back to the terminal for some more activities before going to Pushkin Airforce base.




This was also going to stay as a memory. Arriving at Pushkin we were met by some military officer collecting a great deal of money for letting us in. We knew there were supposed to be some Il18's and Il38's inside. We did see them but the officer told us we could not take any photos and did not stop the bus. We were showed the exhibition area set up for an airshow or whatever, keeping some Migs and helicopters. On the way out we managed to make him to let the bus move slowly so at least we could get some pictures. After all this trouble the officer were not in a good mood and suddenly he ordered the driver to stop. He then explained he wanted the same amount of money we already payed him, this time to let us out! In a hurry for the flight to Moscow there was no time arguing and we decided to pay him under protest. Sad start for the trip! Anyway, back to LED for our Tu134 flight to Sheremetyevo. Some quick shots on the way to the terminal and then to the hotel.





Day 3
Today we started at Vnukovo. New airline this time was VIM, starting up with a bunch of Il62's. They were later replaced by 757's and they also moved to Domodedovo. Lots of Tu134, Tu154 and Yak40/42's. VKO is also home of Russia STC (known as Rossiya) and in the far distance you had almost every type lined up at their apron including the parked An124. The Italian DC-9 which were involved in a taxiing accident were also still present. No access to that area but some Rossiya aircrafts always move. We toured most of the apron, recognising some residents left by Vnukovo Airlines some years ago. KMV, Volga Dnepr, UT Air and Karat being the most common operators here but many other airlines like Transavia (not the well known from Holland), Aviaexpresscruises, Dobrolet and Tulpar are also represented.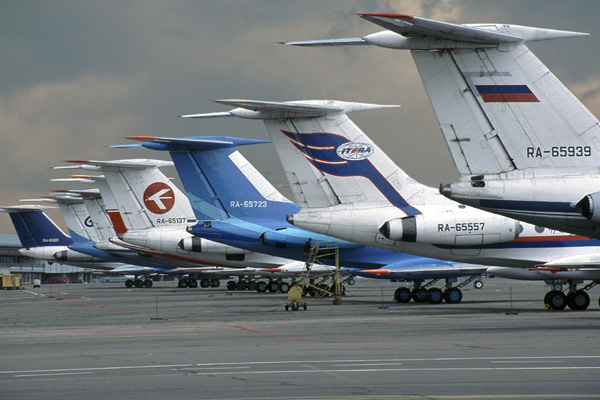 After some hours hunting on the aprons we were off to the area settled between Rossiya and Cosmos Air - the VARZ 400, Vnukovo Aircraft Repair Plant. Here maintenance (or rework as they call it) are carried out, mainly on Tu154's. First a tour of the historic part with the mighty Tu114 parked next to an An12 and a Tu104. Unfortunatelythe Tu114 was scrapped in 2006 but the Tu104 has since been freshly painted and replaced the old gate guard outside the terminal. After that we entered the apron behind the hangars. Here we found some An74's of Gazprom, a couple of Iranian 154's and some others getting the final touch of preparation before returning to the customers. Ending up our visit with a tour of the hangars hosting a couple of all metal, extremly dismantled 154's. Instead of C or D-check the russians make a "rework" of the aircraft. As explained by our guide they simply dismantle the complete aircraft, go through everything piece by piece and rebuild the aircraft completely. This takes a couple of years (!) but the aircraft comes out as new from the factory. In one of the hangars a VIP terminal was being prepared and some western built aircrafts like Gulfstreams and Falcons can be seen here. Highlight being the Falcon 900 3B-XLA. Before leaving Vnukovo we made a pitstop in the terminal to cater and also picture the gate guard.




Back to hotel Cosmos in Moscow situated next to a very big park. Someone knew there was supposed to be some airliners on display here and after the dinner we decided to find out. Walking for a long time we found in the far corner an early version of the Yak42 together with an early Tu154 (which unfortunately were chopped some years later.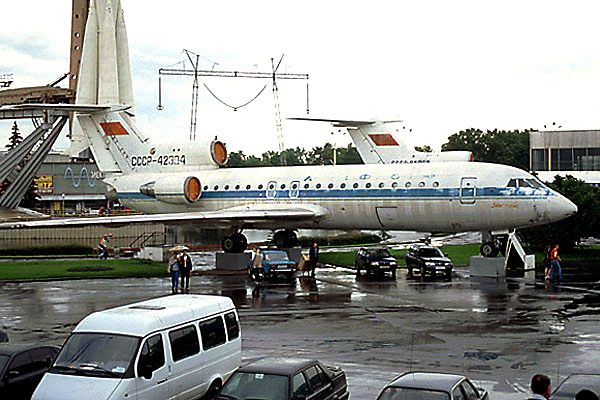 Day 4
Bad weather seemed to follow us and we arrived at a very dull Domodedovo. This airport has grown extremly the last years and terminal got a major facelift. Touring the aprons with a great variety of countries, airlines and types. Surprised even by Domodedovo Airlines who aparently added a couple of Yak42's to their fleet of Il62's and 96's. A great number of Il76's were parked almost on each other and with this apron being next to the active runway quite a lot of lastminute lenschanging took place getting the takeoffs behind the row. Unfortunately the number of westernbuilt aircrafts are increasing overhere and Transaero flew 767's and 737's by the time. The aircrafts building up the company once, is now stored. At DME 3 of the 737-200's were still stored and in the same area an interseting company called Tretyakovo was represented by two Il18's and a sole Tu134. Another company being well represented at DME is Sibir with Tu154's and Il86's. Kras Air came with 154's and 204's but we were going to see more of those companies at their homebases later during the trip. A quick tour of Atrans apron were performed in heavy rain before we left. Some of the interesting companies we got today were; Aerobratsk, Aerofreight, Aerostars, Airstars, Alliance Avia, Aviast, Cen Sad Cargo, Donbass, Enkor, Imair, Mavial, Novgorodavia, Orenburg, Sakhalin and TAT Neft.




After leaving DME behind we had one more planned stop in another park somewhere in Moscow. Here a strange looking Tu134 was to be found. Some says this is actually a Tu124 fuselage with rearmounted engines. Registration fits into the 124 sequence as being CCCP-45075. I later read this is thought to be the first 134 prototype. Sad looking hull being vandalised for many years despite it is on poles





Day 5
Next Moscow airport on the schedule was Bykovo, very close to Zhukovsky (some call it Yakovo due to the large number of Yaks here). Here you are lucky to see more than 3 aircrafts moving during the day. The most interesting part is usually hardest to get permission for, the rework facilities for Il76's and Yak42's. Here are also a large number of aircrafts parked including the two Tu204's once destined for Rossiya. This time however the factory was maybe closed because we were allowed to stroll around the complete storage area. One reason why its usually not permitted is because they also maintain Sukhoi fighters here and sometimes there are odd Il76s coming in to pick up or drop some fighters. Also to be found here are whats left of Bykovo Avia's once proud Yak42 fleet. The gate guard Il14 is also a mystery, nobody has been able to confirm its identity.




Then off to Ostafyevo, home of Gazpromavia. Began with a tour of their hangar keeping the Falcon 900's. A hangar so clean you could easily crawl around on the floor dressed in white, without being dirty. Then walking the line of An74's and once again a bit of disapointing feeling as we were not allowed to continue to the "military" Aeroflot aircrafts at the far side. An Il14 left in a corner lightened up a bit though.





Day 6
With the weathergods still against us we were still quite excited this morning. Permissions for the Airforce base at Tver had finally been worked out. Couldn't wait for the An22's! Arriving there we found out the general supposed to meet us were not there but we were told they had made arrangements as requested, which was touring the aprons of the An12's, An22's and Il76's. The bus stopped at a corner of the kilometerlong apron of An22's where an An12 and an Il76 were also parked. "Here you go, here are the aircrafts you wanted to see". They didn't realise we wanted to see all aircrafts of the same types, not one of each. After long discussions we at least managed to have our bus driving with doors open, slowly along the row of 22's and at least got some kind of pictures of 19 out of the 20 we saw. On the way home we also passed a helicoptermuseum, don't know where it was situated (Im not really interested in them anyway).





Day 7
Starting at Sheremetyevo and the northeastern storage area. The pile of twisted metal from the Il86s of Pulkovo crashing some years earlier were still to be found and at this time the veteran Il14 and Li2 were parked here. More leftovers from Transearo's 737-200 fleet and a couple of Aeroflot Il76's and 86's. Then back via the domestic terminal area where a 737-200 from Iran Government where one ofthe highlights. Yakutia Tu154 and part of Continental Airways fleet as well as KMV Tu204's and Yamal Tu154 then passing Aeroflot maintenance area (no access), where they chopped the remains of their Il62-fleet, on the way to the apron next to Lukoil where some 134's and 154's were joined by Yak40's and Il62's. Most aircraft got pictured before Lukoil security started to argue. Continuing around the west side, and down to the southeast apron. Here we had no permission to stop and our only chance to get something was through the windows while driving. U-turn and back the same way gave a second chance to the limited viewing,




In the afternoon we stayed at Monino for some hours before heading back to SVO for dinner in the famous restaurant in the international terminal with a good view of the traffic. As always photography was ok from the beginning but after a while the staff starts telling you to put away the cameras. This time it didnt matter to much as we were heading for the other terminal to checkin for the late Il86-flight to Novosibirsk.





Day 8
Starting with a mandatory briefing of the airports history and lunch in the VIP-terminal, then to the sunny apron enjoying a large number of Sibir aircrafts in different staus, from old dismantled ex Baikal Tu154's and Vnukovo Airlines Il86's to the latest addition in the operationable part of the fleet, the Tu204's. Altyn Air An26, Alrosa Tu154 and Aeroflot DC-10 also passed. We stayed at the airport hotel and it was so close you could hear from the room when an aircraft reversed on the runway. Simply grab the camera and hurry to the little fenced area next to the terminal for a quick session and then back again.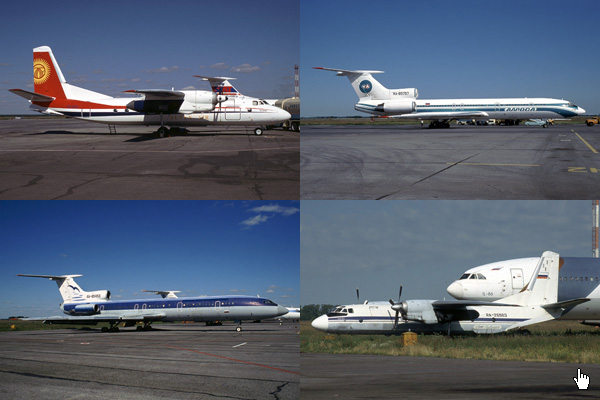 Day 9
Morning once again at the apron of Tolmachevo with a new bunch of Sibir aircrafts. The most interesting one we found in the hangar, former Baikal aircraft in the blue "KLM" livery. We started discussions about trying to bribe them to bring the beauty into the sun. After lots of talking they finally understood our intentions and were just about to initiate the idea when we could call the deal off. Mechanics were by the time ready with their work and pushed it out!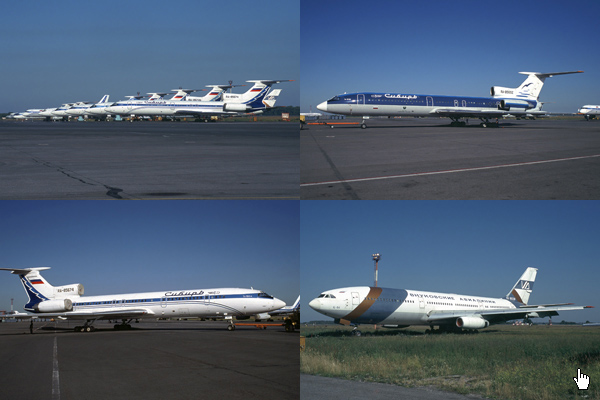 Lunch at the hotel and then by bus to the domestic airport Severny, home of Novosibirsk Avia and also a helicopter rework facility. Carefully pushing the limit further as we walked on the apron we managed to get around most of it even though it was originally limited to the main apron. Most places we found out they were not really keen to show the hulks sitting around engineless and sometimes worse. Sibir Airlines by this time had stopped the An24 operations and here we found another one in storage together with some An30's, Yak40's and Let410's. Some of the latter ones being completely dismantled. When done we boarded our bus for the last time this year and headed back towards Tolmachevo. I was quite surprised that the gearbox didn't say Thanx and goodbye somewhere along the road, it seemed like the driver switched gears without clutch or even syncronizing the RPM... Before leaving the hotel we were briefed by our guide about the next stop. Useful information about the towns watersystem being restored, no hot water in the pipes! We promised ourselfs not to take any shower in that region and later we boarded our evening flight, freshly showered.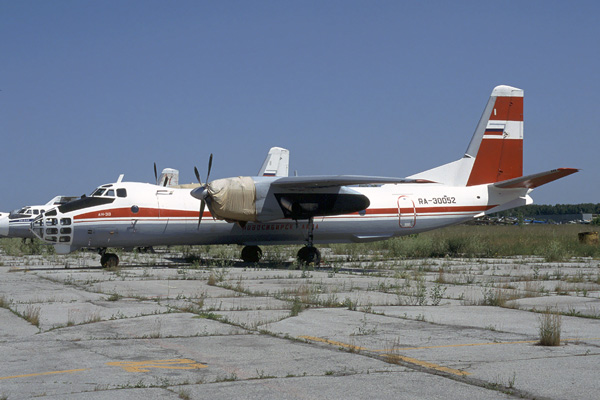 Day 10
Warmly welcomed to Krasnoyarsk Yemelyanovo by one of the highlights, a recent return from China, an Il86 still in China Xinjiang colors! Some local Yak40's and Antonovs outside the terminal and we then headed towards the maintenance area. Here we found a number of Il76's and in the backyard some poor bastards waiting for the axeman. There were also a training area keeping some different airliners. This airport as many others in Russia is separted in two, like Sheremetyevo 1 and 2, both connected and inside the same fence. Here the sole runway was marked 11R/29L. We soon learned it shared runway operations with Cheremshanka where 11L/29R could be found. Number of movements were equal to Bykovo but the rows of aircrafts offered some nice Yak40's and Antonovs.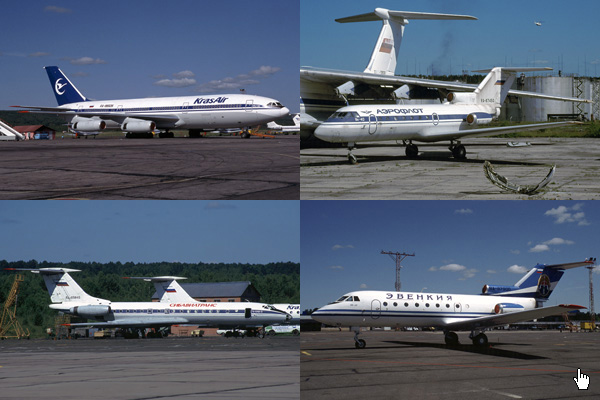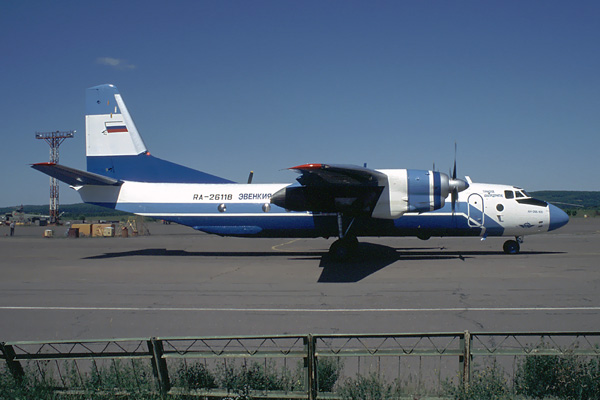 When arriving evening before we noted what seemed to be an Il62 next to a lake nearby. Discussions with the local guide and we were offered a quick detour to the southeast. The airliner was of course parked on the other side of the lake and we had a timelimit for the bus to be returned as well as dinner being served. While most of the group were pretty tired I looked at my friend and we decided to make a quick run. It was 500m to find a hostile welcome by the gipsy's living there. A quick photo and back again. Our promise from Novosibirsk, not to take a shower, was broken the minute after returning to the hotel! The water however must have been several degrees below zero (!), believe me when I say that everyone at the hotel could hear us shower...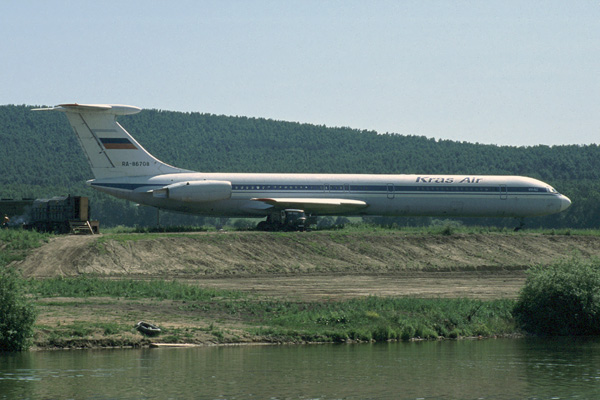 Day 11
We had some hours left before our Tupolev was leaving for Ekaterinburg and we were let out on a terrace with apronview where we got some nice Tup's. A quick tour around the An24's as well and then check in. Arriving at Koltosovo, leaving our stuff at the aiport hotel and then off by bus the 5km to Uktus (Aramil), home of some bizjet Yak40's and a large number of An2's. Dinner at hotel and preparing for the final day of this trip.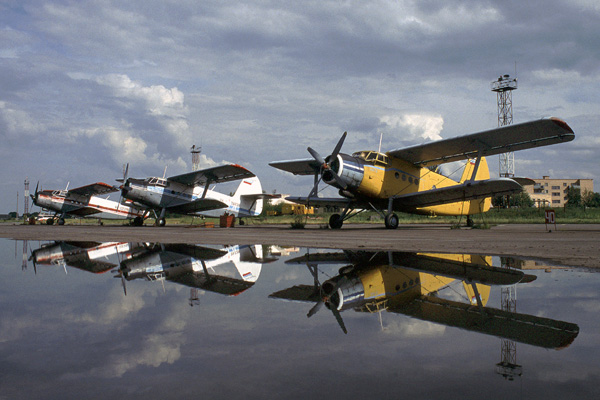 Day 12
Running back and forth in the corridors as the hotel offered good views of the airport giving us some Ural aircrafts we couldn't see later that day. We were offered a complete ramptour at Koltsovo and got most of Urals fleet including three An24's and all four Il86's. Aviacon Zitotrans were represented by a good number of Il76's. Disapointment of the day was propably the lack of access (once again) to the military area at Koltsovo, hosting Antonovs and stingernose Tu134's.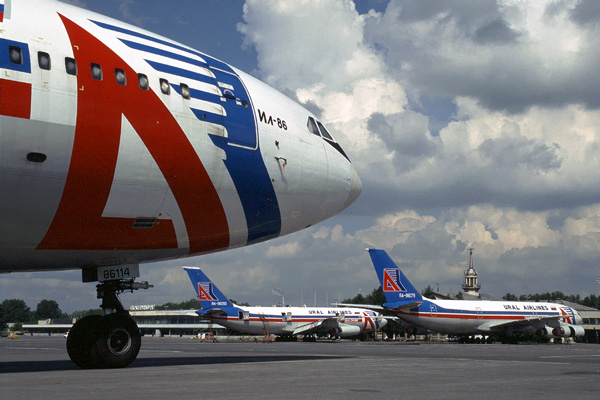 The busride to some grassfield in the middle of nowhere, with a couple of An2's and some smaller ones were not really helping up either. Finally back in the evening having some final beers for this trip.





Day 13
Boarding the morning Aeroflot flight back to Sheremetyevo and byebye to the group while we took a walk to the approach to kill yet another couple of hours before returning home. Arriving at international terminal and a last visit to the restaurant having some snack and after taking photos of the Kyrgys Air MD-80 getting kicked out again. Didnt really matter. Quite exhausted after this journey. Got a lot of new russliners; 64 Tu134, 132 Tu154, 41 Il62, 42 Il76, 44 Il86, 19 An22, 31 An24, 16 An26, 9 An 30, 57 Yak40, 32 Yak42 and many other various types. Of the total 640 new aircrafts pictured only 18 were assorted Boeings.