July, London Flying to London, renting a car, driving around in United Kingdom - never boring and VERY effective with those friends of mine...

Day 1:
Starting in Manchester on the rooftop of the parking, as spectators area did not open as early as we wanted. Virgin Sun, TransAer, Sabre and of course Airtours were pictured before moving along the perimeter, stopping for some remoteparked Air Atlanta 747's and a PIA 743 came as well. At the viewing area we didnt get much of interest. Monarch, Britannia, British Midland, JMC, British Airways, Delta, and Aer Lingus to mention some.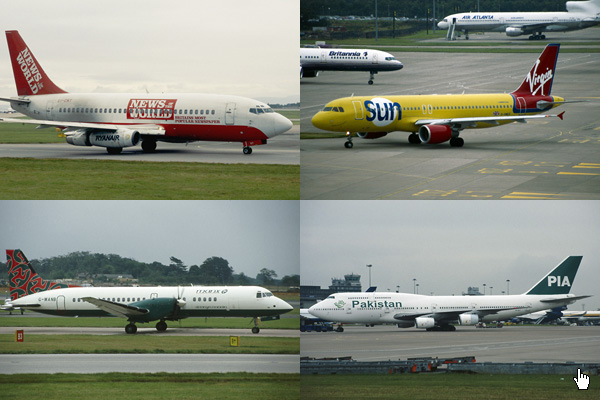 When it got boring we moved on to Woodford, home of British Aerospace. Some Air Acores and Merpati ATP's in the distance and a demo J41 were nailed.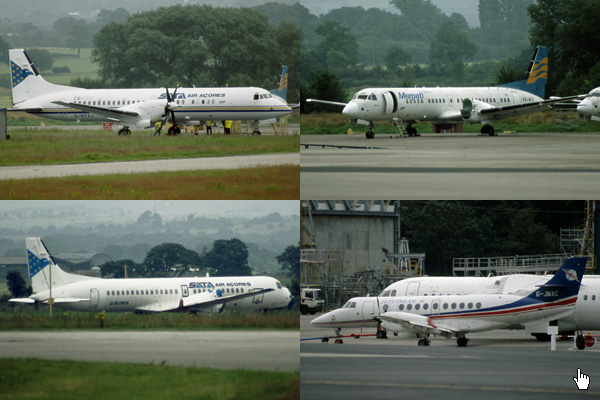 Then via East Midlands where we found the hulk of TC-ALM in the far distance...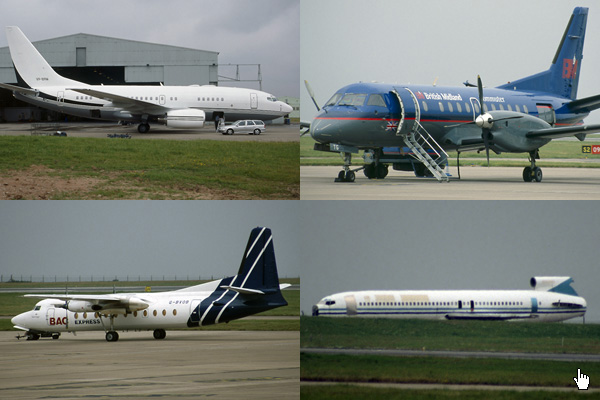 ...passing the museum at Coventry, just a quick picture from a nearby hill of the most interesting aircraft - the Argosy...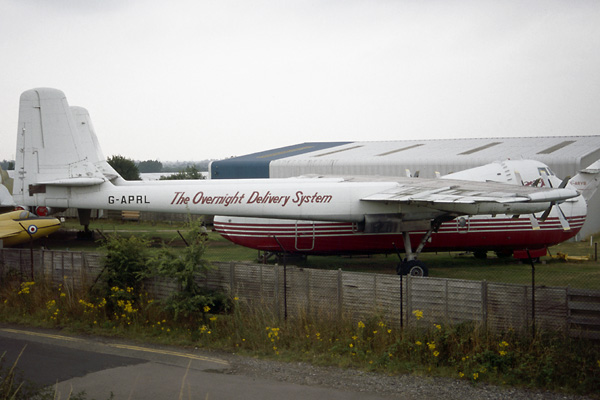 ...ending up in Birmingham, home of many British Airways A319's, 735's and E145's as well as British Midland E145's. A single 1-11 showed up on the approach, still with traces of the shortlived Swedish lowcost carrier Fly European.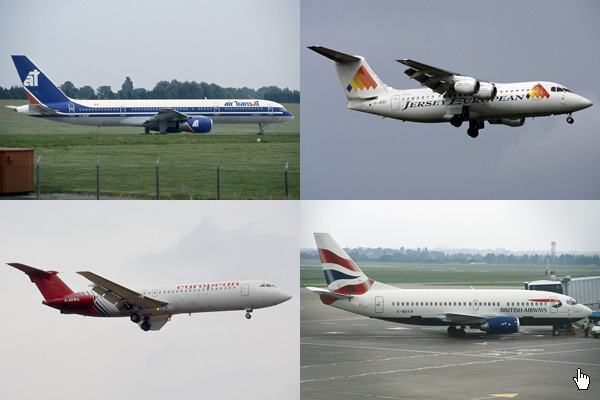 After getting bored once again we decided to continue to Luton, the bizjet heaven. Scanning all the aprons, getting a number of half bizjets (terrible fences) but also a great amount of whole ones, we stayed next to the classic taxiway bridge beside the terminal. By the time it was already hard, but NOT impossible to get rid of the car nearby.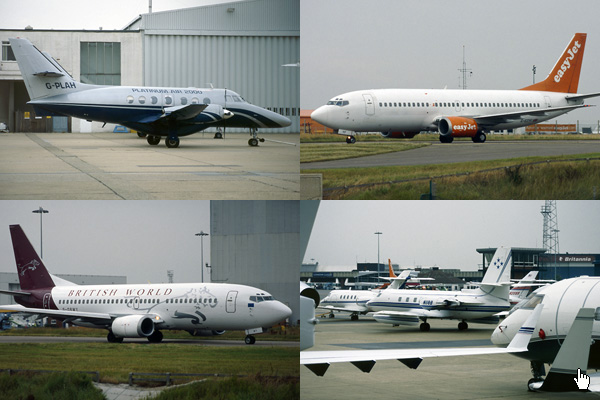 Day 2:
After a good nights sleep in a tent (well it was a budget trip), we started at Stansted, checking the VIP aprons on the far side, getting N728A DC-8, N250GE 737, P4-TBN 707, RA-76842 Il76, G-AWZU Trident and N404LM Gulfstream.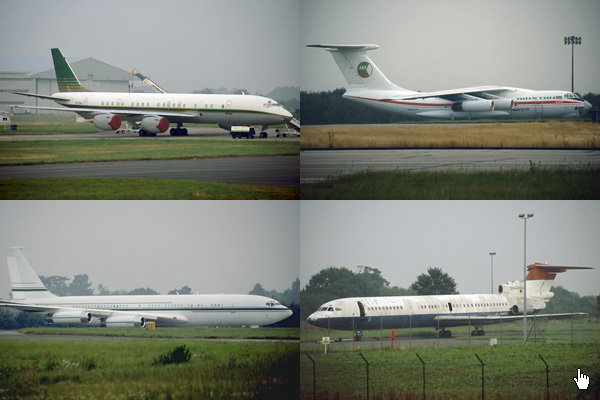 Then to the construction site along the runway between Diamond Hangar and the terminal. Traffic consisted of Ryanair, Buzz and Go. The latter one was quite fun but little enoying as you had to take all aircrafts from both sides as the slogans were different.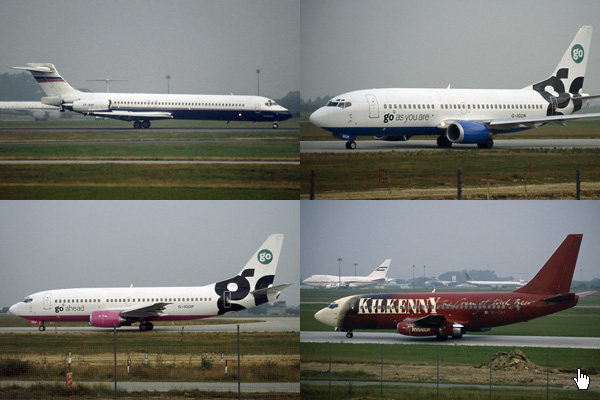 When morning peak was over we continued to Southend and got 9Q-CBW, P4-FDH and 5N-MXX, all 707's. On the far side we found 3C-AAW and 3C-QQA, two parked F27's.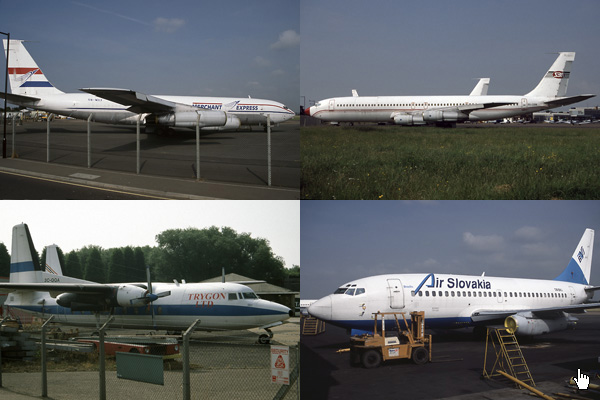 Then via London City Airport with its regional airliners like Sabena DH8, VLM F50 and Scot Airways Do328...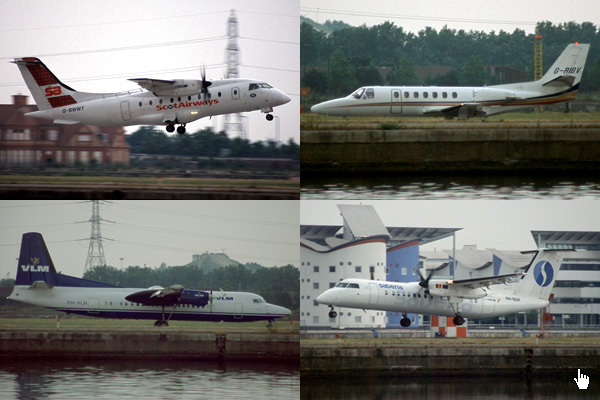 ...down to Manston. This is the home of Air Atlanta and MK Airlines and also cemetary for 707's. Found in total five of them in more or less poor condition. Most were victims of the axeman within some years.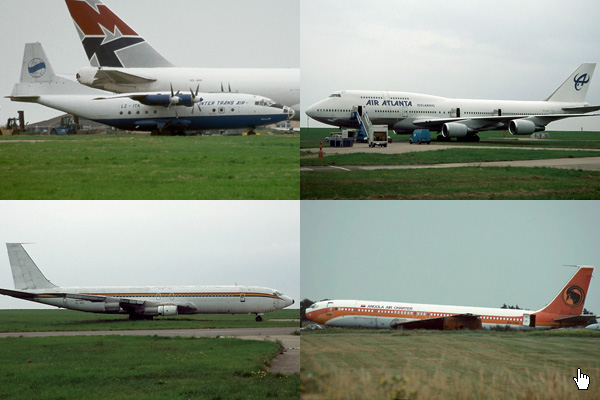 With ants in the pants and no moving traffic at Manston, we were soon off again, this time to Gatwick staying by the approach until the evening was a fact. Once again sleeping in the tent quite close to the airport allowing an early morning start next day.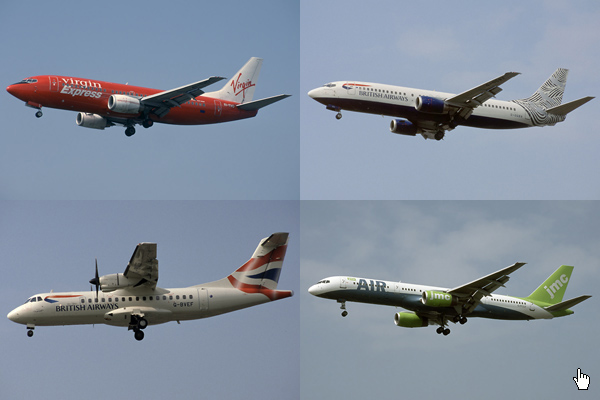 Day 3:
Starting in the parking house at Gatwick with the usual traffic, British Airways, Air 2000, Sabre, Air France, JMC, Sabre and more.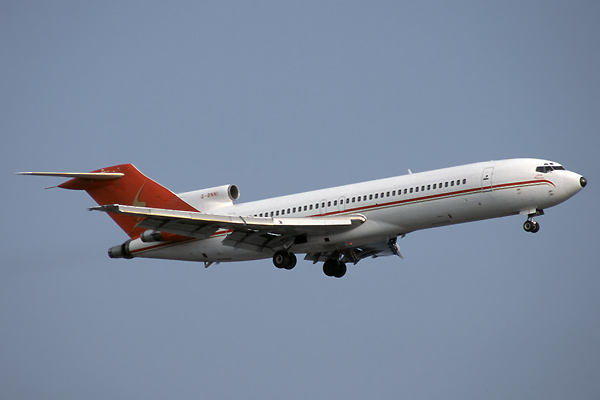 After morning peak we drove off to Biggin Hill getting some bizjets with the highlight being 5N-AAN.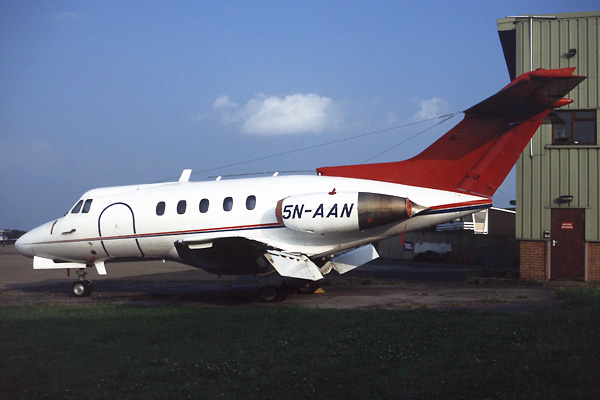 Then back to Gatwick for the lunch traffic like Air Transat A330, Northwest DC-10, TWA 767, Ukraine International 732, Canada 3000 and Delta.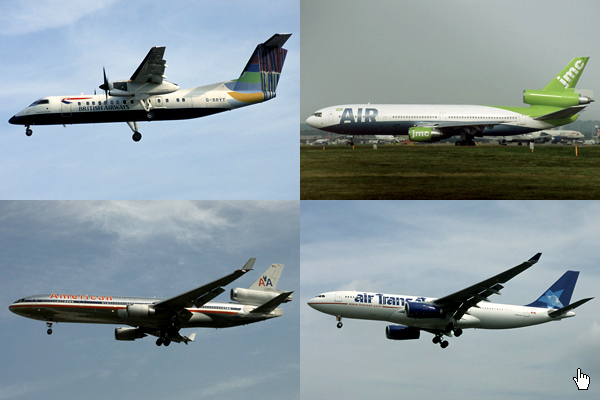 Some hours in the static display at Farnborough Airshow were spent before continuing south. Lack of russian airliners was disapointing.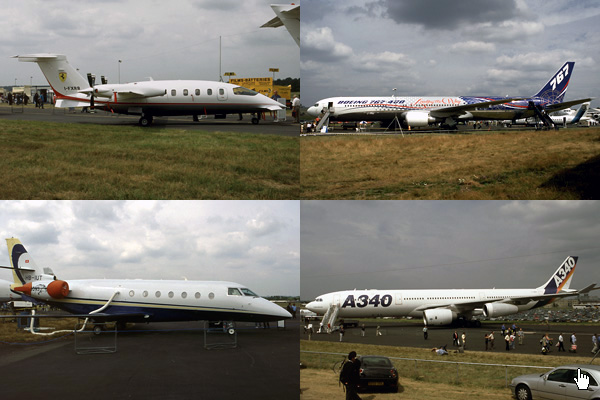 Lasham is a quite interesting airport with a small village road ending up at the runway threshold. You cross the runway and drive on the taxiway to the maintenance area where we found Burkina Faso 727, MK Airlines DC-8 and an ex British Airways 757.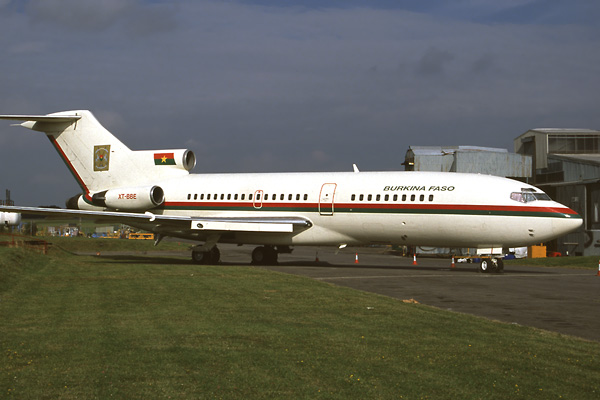 Last planned stop was Bournemouth with European Aircharter and all their BAC 1-11's.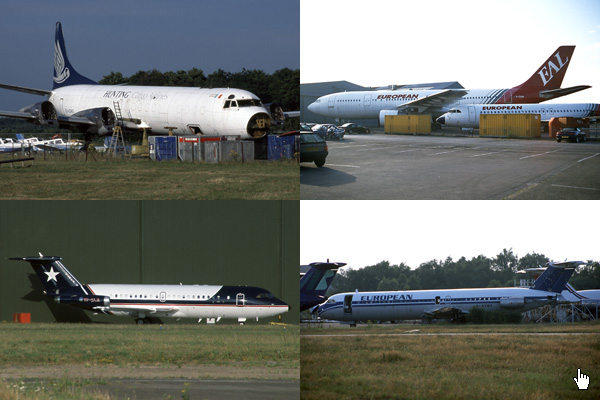 Our first unplanned stop (which lead us to a second one) was at Boscombe Down, the RAF testfacilities. We made some recognition along the perimeter to see what BAC 1-11s were parked and some minutes later we found us being followed, stopped and questioned by security. We appologized and asked them for the way to Stone Henge which turned out to be just next door... Of course we drove there as well to have a look, celebrating a great day of photography!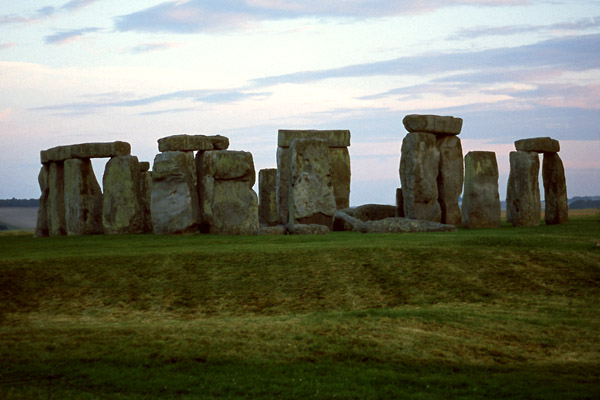 Day 4:
Heathrow was still on the list and of course our camp for previous night was Myrtle Avenue. Woken up before dawn by heavy metal jetmusic coming in 27L, we waited for the sunrise. Never came as it was rather cloudy this day but we stayed until lunch, then took some lineups at 27R and bored beyond belief we were off again.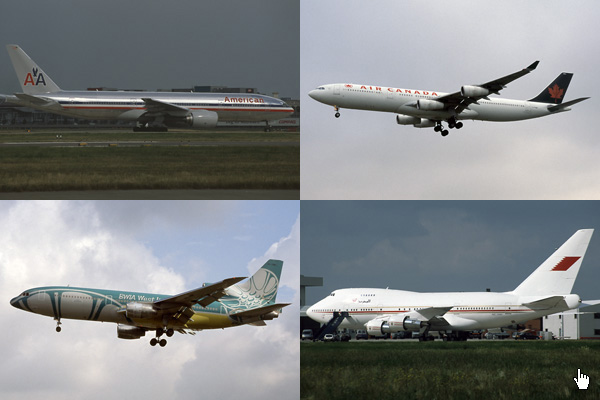 This time to Stansted for some more Go 737's. Weather got better and in the sunlight one of UAE Amiri Flight 747SP's took off. Some Ryanair 737's and an Air Atlanta 747 passed and then we headed back for Heathrow.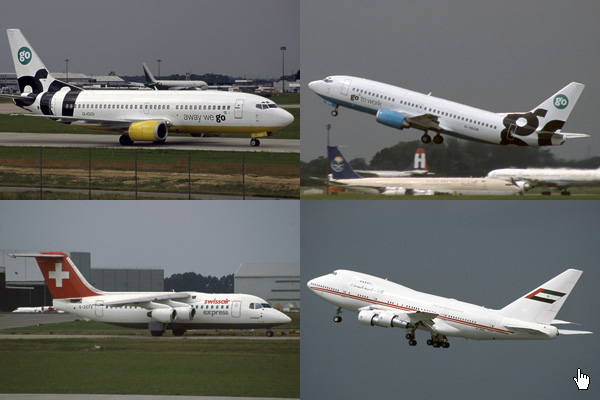 It was after 3 o'clock and landings were now on 27R. Sun disappeared again and tired of bright sky behind dark aircrafts we moved to one of the parking decks instead.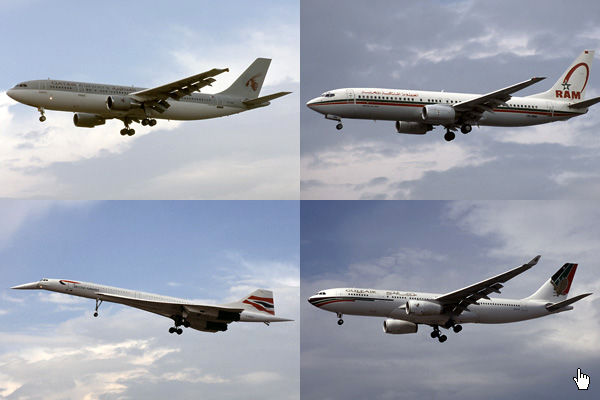 Day 5:
Morning in the park at Myrtle Avenue again, gave Air Lanka A340, Canadian 767, Swissair A330, Ghana DC-10, KLM 767, Air Namibia 744. From the terminal before leaving I made some last shots for this time ending up with an Avianca 767 and a Biman DC-10.